Today I am linking up with Ashley & Neely for Sunday Social.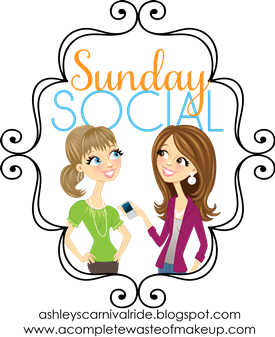 1.What is something you have wanted to do but are afraid of?
I really wanna get a tattoo but I am the biggest baby when it comes to pain tolerance so I am terrified.
2.Where do you see yourself in 5 years?
In 5 years I'll be 27...woah! I hope to move on from pre-school teaching and move to elementary. I see my self settling down & starting a family of my own!
3.What are you looking forward to before the end of 2012?
I am looking forward to thanksgiving & christmas. I love those times of the year because my whole family comes together and we have a blast!
4. What are your hopes for your blog?
I hope that through my blog I can make a ton of new friends & that it conts. to grow!
5. Do you always see yourself living in your current town/city?
I love Atlanta however I was born and raised in MI. I'm not attached to GA but would def not mind starting a family here. It is also really important to me to stay near family.
6. What is your morning routine?
Alarm goes off at 7. I grab my phone check blogs, twitter & facebook. Get up wash my face and brush my teeth. Slap some make up on and do my hair. Find something to wear and go down stairs and make breakfast and then head out the door at 7:45.