Today I'm going to be sharing with y'all my favorites from last month!
I love reading these types of posts and discovering new products to buy
This past month I have been a lip junkie
In fact other then a mascara lip products were all I bought
I have 5 to show you today
top swatch is the Revlon Lip Butter in Sugar Plum
& bottom is the Revlon Lipstain in Crush
Baby Lips in Pink Wink- This is a limited edition one. I got mine at Walgreens I'm not sure if you can get it anywhere else. I love this though and have been wearing it all month.
Sugar Lip Treatment- I got this from Sephora for my little birthday gift they give you. This stuff is amazing. It makes my lips feel like butter and is a great base to put on before putting on lipstick
Revlon Just Bitten Kissable Lipstain Balm stain in Crush- First off if you haven't tried these things you NEED to. I have been loving dark vampy lips for the fall and this is the perfect dark wine shade.
Revlon Lip Butter in Sugar Plum- I love wearing these when I don't feel like wearing lipstick but just want a little bit of color on my lips. I just throw it in my purse and reapply it through out the day & the best part is its like a lip balm so i don't need a mirror to apply it.
Neosporin Overnight Renewal Therapy- I first heard about this months and months ago from Lauren and picked it up right away. I put this on before bed and when I wake up I have the softest lips.
All my summer foundations don't match me anymore so I had to break out my winter ones.
I found my MAC foundation I had purchased last year and I remembered not liking it but I was in a jam and had to wear it. I loved it though! I think I like it this time around because my face isn't so dry.
Which brings me to my next favorite
Simple hydrating light moisturizer- I have a confession to make. I never used to moisturize..ever.
They would always break me out! This month I noticed my skin was just so dry so I went on the hunt for the perfect moisturizer and found this little gem. I got it at Walmart for less then $10
It has helped my skin out immensely. No more dry skin & it hasn't caused me to break out!
Maybelline Colossal Cat Eyes Mascara- This is there newest mascara & I love all of there mascaras so I had to try this. I have a love/hate relationship with it. I hate it because it drys so fast. I have to do one eye at a time. However, it makes my lashes look amazing!
NYX butt "naked" eyes palette- I will be doing a whole post dedicated to this later this week
B&BW Warm Vanilla Sugar Body Mist- I'm sure you have all smelled how amazing this is! I used this literally every day.
Last 2 favorites are brushes.
ELF Powder Brush-I actually use this for blending in my foundation and it works great! It makes my skin look flawless.
Sigma F50- I have been loving this for putting on my blush.
Now its time for Song Favorites!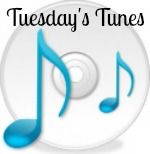 Song(s)
Blown Away by Carrie Underwood
&
R.I.P. by Rita Ora
What have some of your favorites been last month?