I'm starting to think Sundays are almost worse then Mondays
because all I do is dread Monday being tomorrow!
Anyway, I am linking up for some Sunday Social
& these questions made me so excited for Thanksgiving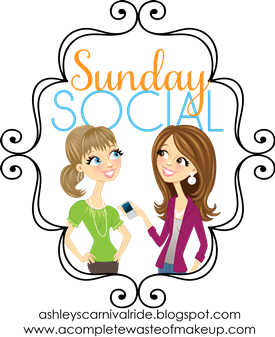 Favorite Thanksgiving memory
I used to live in Michigan up until I was 16. America's Thanksgiving Parade is held in Detroit so every year my whole entire family. Aunts, Uncles, Cousins, Grandparents, etc would all get in our big Rv's and go see the parade. It was sooo much fun!
Favorite Thanksgiving Food
mashed potatoes!
What is a thanksgiving tradition you and your family have?
Sadly we don't do this anymore but when I lived in MI my family and I would go to this thing called the Hobble Nobble Gobble. It's a black tie fundraiser and it is on the day of the Parade. It was always so much fun! The very last time we went it was a carnival theme for the kids. My cousins and I had so much fun!
Show us a favorite Thanksgiving picture (or 5) from years past
So, I guess I never take pictures on or even near Thanksgiving? I looked & looked and couldn't even find one!
What are you most looking forward to about this Thanksgiving?
I am looking forward to staying home for once this year & going to have dinner with the family & then going to see cirque du soleil.