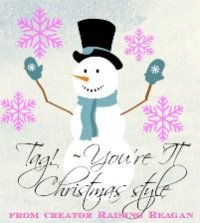 I was tagged by one of my favorite bloggers and friend Katie over at katers potaters
for this fun Christmas tag!
Here are the questions Katie gave me to answer:
1. Whats your favorite ornament on your Christmas Tree?
I don't really have a favorite ornament!
2. Is there a certain food you have to have around Christmas time that comes out?
White Fudge covered Oreos
OMG. so good.
3. Christmas lights, White or Colored?
I love the white! I think its so classic!
4. Favorite Christmas Movie?
Elf! I can watch it over and over and never get tired of it.
5. What do you do the day after Christmas?
Usually we are always on the road headed to see family in Michigan
Have fun! Answer the questions and tag five more bloggers! After you've done your post, come back here and leave me a comment with the link to it because I don't wanna miss it! Instruct your tag-ees to do the same for you. Don't forget to link your post back to Raising Reagen
Here are the bloggers I am tagging:
Coley @ Planned Spontaneity
Ricci @ A Beautiful Mess
Allie @ Tales Of A Twenty Something
Jenn @ Party of One
Natalie @ The Spunky Poser
Here are your questions:
Which do you like better: Christmas Eve or Christmas Day?
Favorite Christmas song?
Does your family have a special holiday recipe you like to help make?
Most memorable Holiday moment?
Do you open any presents on Christmas Eve?