I hope everyone has had a fab weekend so far!
I know I'm enjoying my last day of freedom before school starts back up again! bleh!
Today I am linking up with Neely & Ashley for Sunday Social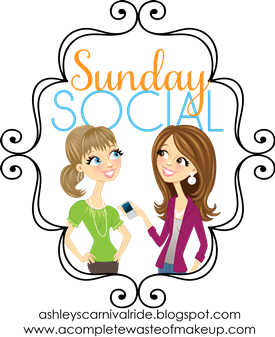 1. Do you plan to change any of your eating habits in the new year?
I am going to cut out sweets and soda! I was never a big sweets eater but the rest of my family is so last year I started to eat more sweets.
2. Any workout tips to get us back in shape after the Holidays?
Work out with a friend. I know at least for me it keeps me motivated to want to work out!
3. Favorite thing you did over the Holidays?
This year was the first year in 6 years that we actually stayed home & didn't go visit family.
My grandparents came to visit us.
It was nice just to be able to enjoy the holidays instead of having to worry about packing, the long drive, etc.
4. What is something you hope that you accomplish in 2013 that you did not in 2012?
Cook more! I was on a roll in the summer and then when school started back up I stopped completely.
5. Name 3 things happening this year you are excited about and why
A lot is changing this year.
First, my cousin and her husband are moving here in March. This is huge because we have no family here so I am excited to finally have family in GA!
My grandparents will most likely be moving here as well sometime this year!
Second, my siblings are seniors this year and are graduating. I am so proud and excited for them.
Third, I really want to find a new job. I'm becoming more and more unhappy at the school I am at. I hope I can eventually move to a different school.